Inside Dustin Johnson's Crisis Management Strategy at Augusta National
GOLF.com / Stephen Denton
Welcome to Play Smart, the game improvement column that drops every Monday, Wednesday and Friday from game improvement editor Luke Kerr-Dineen (Who you can follow on Twitter here).
Augusta, J.A.; – I was walking around Augusta National on Thursday, jotting down a few different notes that all sounded like half stories. So, a bit like breaking into the fridge and seeing what you can make of it, today's Play Smart is a master omelette of sorts. A small selection of the different ideas we crack the egg to make it work.
Why DJ hit so many 3-woods
The college DJ's coach and the man who runs his golf academy, GOLF Top 100 Instructor Allen Terrell, was very clear with me when I spoke to him last week: The DJ's swing hasn't been where he'd like in recent months.
In short, the DJ loves faded beats and hates losing left. Both of these require him to swing to the left with the putter face slightly open, relative to his swing.
But because too much of a good thing in a golf swing can sometimes become a bad thing, a DJ can start the swing. is very far left. This can lead to major fades, and subsequent offsets that leave intimidating double crosses. But remember: DJ hates the lost left! So to prevent this bug, his instinct is start to swing up more Leave, which leads to more double crosses. It's part technical and part mental.
But a DJ is working on it, says Terrell. He's worked on this before, and it's getting better fast. Terrell was also clear on another important point:
"He's talented and athletic enough to make it work," he says. "He's won by doing it before, and he can win it again."
Part of the reason is that big players like DJ become great for a variety of different reasons.
DJ isn't just a great club slingshot, he's a great strategist too. Having lost the drives in the first slot, and left them in the third slot, he essentially resorted to crashing into wood for the rest of the day. He hit 3-wood on 10 out of 14 holes Thursday in all – and on three par-5s.
why?
"I hit a lot of 3 woods today because for some reason I wasn't comfortable with the driver, which is unusual for me. Normally, it's the other way around." "But I just needed to keep playing."
It's the kind of street smart, smart mindset that people with DJs often overlook. He quickly realized what was happening, did not like what he saw and adapted to it. He played what he had, and once he got home in an impressive three, he quickly moved to the range to see the rest.
Some other reflections…
the fifteenth hole He's kind of a monster now. Most players in recent history have had a long iron corridor or a raised bunk in two. But with 20 yards added since last year, and with winds blowing right into the tee on Friday, the hole was rough: "I hit the driver, a 4-iron, and a sand wedge. It was a driver, 5-iron," Daniel Berger said.
fourth hole It is 240 yards par-3And who was playing in a heavy wind on Thursday. I've been camping there for a while and in a three-group space I've watched DJ, Zalatoris, Cantlay, Rahm and Spieth all go wrong a long time ago. I think they bounced with the batons and tried to hit the fade back in the wind, but ended up dragging the ball to the left instead. It's a good place to miss on a hard hole, but upon watching it, I realized it's the kind of fine fail that regular golfers never do.
Spieth's Pre-Swing Rehearsal She drew attention on Thursday. He did it because he's trying to make the club feel superficial in the transition phase, the way he says it He can do this by exaggerating it in slow motion.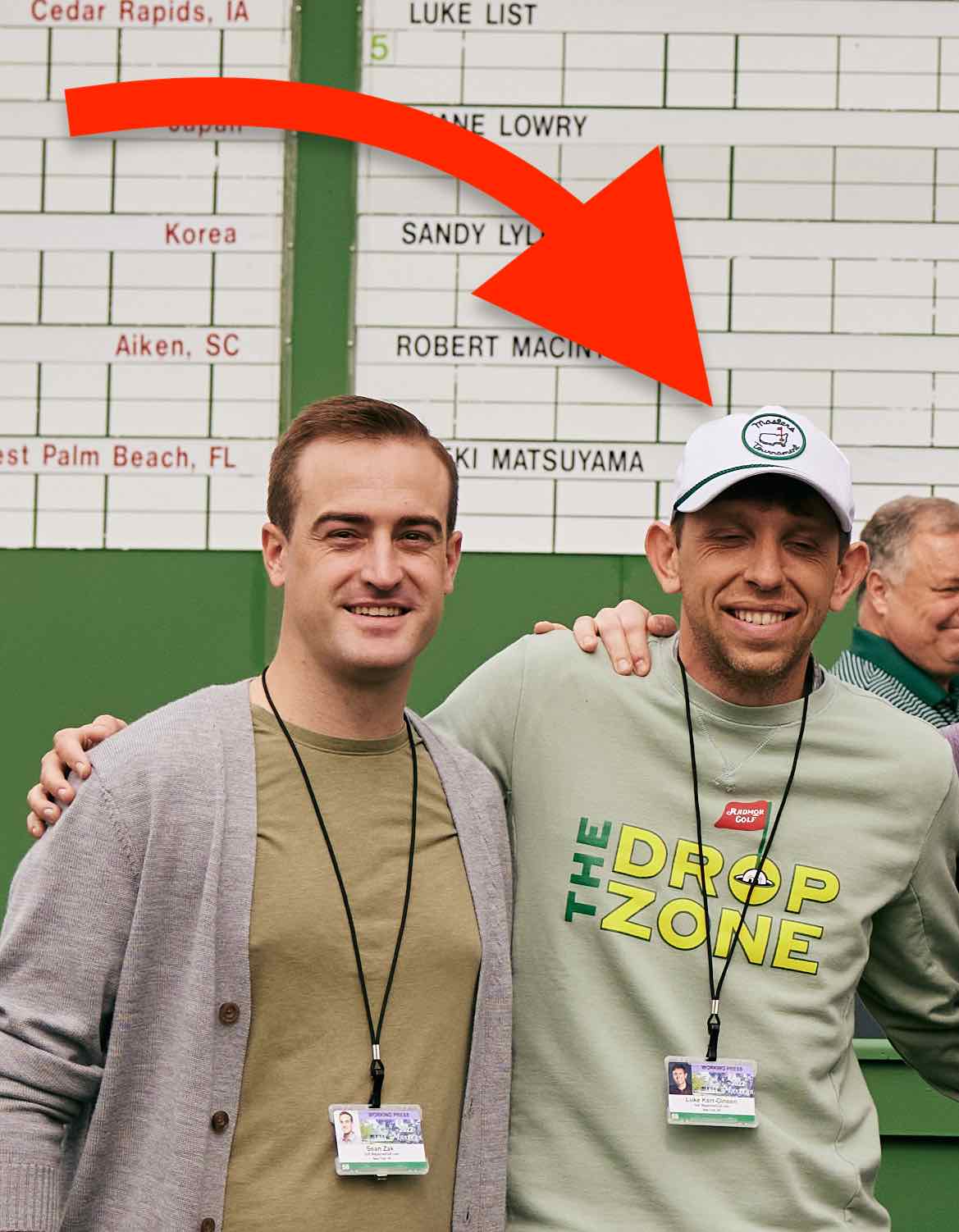 tiger injury effects They surface in many different ways. I always look for two big stories: If he gets back on his right leg quickly after a crash, that's a sign that he either can't physically or he won't be bearing weight on his main leg, due to pain or problems with movement. The other anecdote is a quick left skip, which for the same reasons means he doesn't move his body during the shot but frees his face anyway.
Master's Store There seems to be a slight increase in cool stuff this year. The Masters crest appeared in the '80s, as does a replica of the iconic '60s rope hat. I'm wearing the white version on the right Along with my colleague Shawn Zack. I would have made a great photo if I hadn't blinked at it.
I had a great time on a few capsules Recently. First the Drop Zone (which you can find here), then getting to know J-Wall on Fully Equipped (here) and then more recently on the Bunkered podcast with my friend across the pond, Michael (here).